County Information
County Standard and Badge
West Yorkshire West County Standard
Heraldic Description
The long narrow Standard tapers to a rounded split end measuring eight foot long by two foot wide at the Hoist.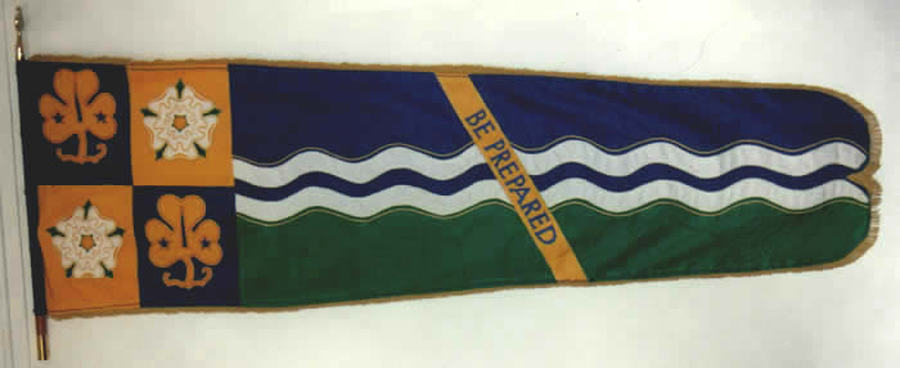 The Design is:-
At the Hoist, quarterly,
The Guide World Trefoil, Gold on a Blue Field.

The White Rose of York on a Gold Field.
The Fly is divided horizontally into two fields of Blue and Green representing the sky and our hills and valleys.
Barry wavy of Blue and White represent the Calder River linking all parts of our Calderdale Way together.
Blazoned diagonally in Blue lettering on Gold is the Guide Motto 'Be Prepared'.
On the reverse is the (abbreviated) name of our county 'West Yorks West'.
West Yorkshire West County Badge
Our county badge is a white Yorkshire Rose.
COPYRIGHT INFORMATION
The copyright of Girlguiding Clip Art Images used within this website are owned by Girlguiding and the use of these resources for commercial purposes or non-members of Girlguiding is strictly forbidden unless prior consent has been obtained from Girlguiding. All text and photographs on this site are copyright Girlguiding West Yorkshire West unless specifically stated otherwise. No part of the text or images held on this site may be produced for any reason without prior written consent from Girlguiding West Yorkshire West.